Frome Vale Academy is part of the Cabot Learning Federation, a multi-academy trust that is responsible for a number of academies across Bristol, South Gloucestershire and North Somerset.  Governance for a multi-academy trust operates at two levels.  At trust level, there is a Board of Directors.  The directors are accountable to the Department for Education and external government agencies, including the Charity Commission, for the quality of the education the trust provides and the effective use of the associated academy funding. They are required to have systems in place through which they can assure themselves of quality, financial probity, safety and good practice. The Board is provided assurance on a number of these areas through various sub-committees, as shown in the diagram below. For further information about the Board, please click https://www.clf.uk/governance/
Governance within a multi-academy trust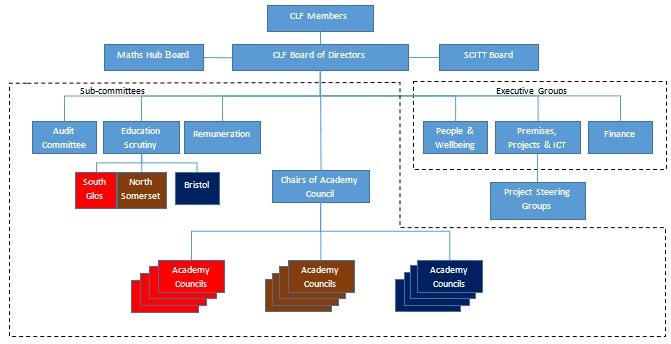 At a local level, each academy has an Academy Council comprising of up to 13 Academy Councillors.  Academy Councils are responsible for holding Principals and their leadership teams to account for the quality and effectiveness of the academic experience of the students under their care with the aim of securing effective school improvement.  They do this through monitoring performance against an annual academy improvement plan, through monitoring risks and responses to risks, and by overseeing systems and processes for the safeguarding of children and the health, safety and wellbeing of academy staff.
Frome Vale Academy Council
Governance at Frome Vale
Traditionally, schools have 'governing bodies', but as Frome Vale Academy is part of the Cabot Learning Federation (CLF), we have a slightly different structure. The CLF Board has overall responsibility for the management of all its academies (finances, staffing etc.), but each Academy has its own Council. The Council is made up of teacher and support staff reps, sponsored councillors (appointed by CLF), a local authority representative, 2 parent representatives (elected by parents) and a student advocate.
Academy Councils are responsible for holding Principals and their leadership teams to account for the quality and effectiveness of the academy for their students. Their focus is school improvement, and they monitor performance through the annual Academy Improvement Plan (AIP), through monitoring risks and responses to risks, and through overseeing systems and processes for the safeguarding, health, safety and wellbeing of academy staff and pupils.
Academy Councillors are expected to both support and challenge the Principal and academy leadership team, and work with them to make the academy one that everyone can be proud of.
Academy Council Meetings will be held this year on:
13 October 2020, 8 December 2020, 2 March 2021, 20 April 2021 and 13 July 2021.
If you would like to contact the Chair of the Academy Council please send your email via the clerk on [email protected].
The Academy Council at Frome Vale Academy is made up of:
Chair of Academy Council & Sponsor Councillor 1
Laura Walder – Safeguarding Lead
Laura joined the Council in 2016 as a parent councillor and became chair in July 2019. Since graduating from University in the city, Laura has worked within Bristol's charity sector and is a qualified H&S professional. Laura has a keen interest in the arts and the natural world and is passionate about education and learning.
As Chair, Laura leads the Council, providing strategic direction, as well as support for the senior leadership team. Laura attends Chair of Academy Council meetings and oversees recruitment to the Council.
As Council Safeguarding Lead, Laura meets termly with Heather Marshall, the school's Designated Safeguarding Lead (DSL). Laura monitors the systems in place for safeguarding and ensures relevant audits and reports are carried out.
Sponsor Councillor 2
Joyce Adegege-Soyemi
Joyce Adeyeye attended the prestigious University of Lagos and gained her professional qualification with the Institute of Chartered Accountants of Nigeria. Joyce worked as a banker with Metropolitan Bank Limited in Nigeria before moving to the UK and has since worked in healthcare.
Joyce has extensive experience working with people in different situations, from mental and physical challenges to temporary accommodation problems. Joyce has a deep understanding and knowledge of human challenges and the day-to-day problems faced by people of all walks of life and brings this understanding to her role. As Equalities, Diversity and Inclusion Lead Joyce works with the school and parents to ensure equity and fairness.
Sponsor Councillor 3
Ms Lori Streich – Curriculum Geography & History Lead
Lori lives near Frome Vale Academy and joined the Council because she wanted to get involved with an organisation in her local community, and because Frome Vale is in her own words 'a great local school!'. Lori is particularly impressed with the school's approach to developing Frome Vale Citizens, its focus on supporting every child to do their best, and the creativity of the teaching staff. Lori's own children went to a Primary School that had a small concrete playground, so she really appreciates the amount of outdoor space that Frome Vale children can enjoy.
Lori works with charities to support the delivery of effective services, and brings this expertise to the Council. As the Link Councillor for the history and geography curriculum, Lori supports the school by making links with outside organisations which enrich this teaching in school.
Sponsor Councillor 4
Dilan Kaygisiz – Awaiting board approval
Sponsor Councillor 5
Vacancy
Executive Principal
Kate Richardson
Kate is Executive headteacher working for Cabot Learning Federation. Kate supports school improvement by working closely with the principal, vice principal and staff team. Kate has worked in education in Bristol for 8 years, having moved from London.
Principal
Dr Saunders
Jan started her career in education in 2001 at Summerhill Academy following a career in electronic publishing. Following 10 years as  a classroom teacher and curriculum leader, Jan moved into senior management together with a coaching and mentoring role  before joining Frome Vale Academy in 2014, first as Associate Principal and then as the substantive Principal. Jan has a keen interest in professional development, completing an MA in Lifelong learning and an educational doctorate researching emotional labour and teaching.
LA Rep
Lucy Fulton – Pupil Premium
Lucy joined Frome Vale Academy Council in November 2019. A qualified teacher, Lucy works within the cultural sector in Bristol and has one pre-school age child.
As Pupil Premium Lead, Lucy has a focus on the quality and usefulness of the additional provisions made in this area. Lucy wholeheartedly supports the school in providing the very best opportunities for all its students.
Parent Councillor 1
Meriam Gordon – SEND & LAC
Meriam joined the Council in 2019 and has two children at the school. Meriam has worked in Human Resources since 2007 and has vast knowledge around policies, procedures and  employee rights, amongst other things and hopes to transfer her knowledge to her Councillor role. Meriam previously volunteered at her local Hospital Radio until moving to Bristol where she is now a full-time mother to 3 children.
As the Lead Councillor for Special Educational Needs & Disability and Looked After Children, Meriam has a focus on ensuring the needs of these children are met and they are provided with the best opportunities.
Parent Councillor 2
Paul Stephens
Paul joined the Academy Council in 2020 and has 1 child at the school and 2 younger children. Raised in Bristol he has worked for the Ministry of Defence since 2013 following a career in retail management and is an accredited Project Professional with management responsibility in risk and cost management, overseeing governance and the management of business services to several high profile projects. Paul has a keen interest in professional development of others.
Teacher Councillor
Maria Cerapanova
I became an Academy Councillor to get a broader view of how my school works from different perspectives and understand what drives key SLT decisions which affect our whole school community. I am learning about ways our Academy Council influences and supports the Principal to determine the strategic direction for the school. Holding the Academy to account for the success and progress of all our pupils, with their individual and personal needs, is key to our collective success and I am honoured and lucky to be at the heart of this. I hope to bring my individual perspective, experience and knowledge of our community, our children and academy's unique journey to our discussions, and hope that my contribution will be of increasing value as I gain in experience.
Support Staff Councillor
Hope Allen
I joined the Academy Council in November 2019. I am a learning mentor at The Nest.  I also lead in health and safety and PE.
Student Advocate Councillor
Nikki Dawson – Pupil Voice Representative
Nikki began her teaching career in 2004 in Bristol, where she has predominantly worked.   She has a huge amount of experience as a class teacher in all year groups and has taken many different subject leader roles, including Maths, Art & Design and Humanities. In 2009, after being a lead teacher for Bristol, Nikki moved into senior leadership as a SENCo and assistant head teacher. Nikki joined Frome Vale Academy in December 2017 and she very much enjoys working with the children and supporting the development of Pupil Voice.
Academy Council Downloads
Register of Business Pecuniary Interests 2020-21 (and Meetings Attendance 19-20)
Register of Business & Pecuniary Interests 2019-20 (and Meeting Attendance 18-19)
Meeting Minutes